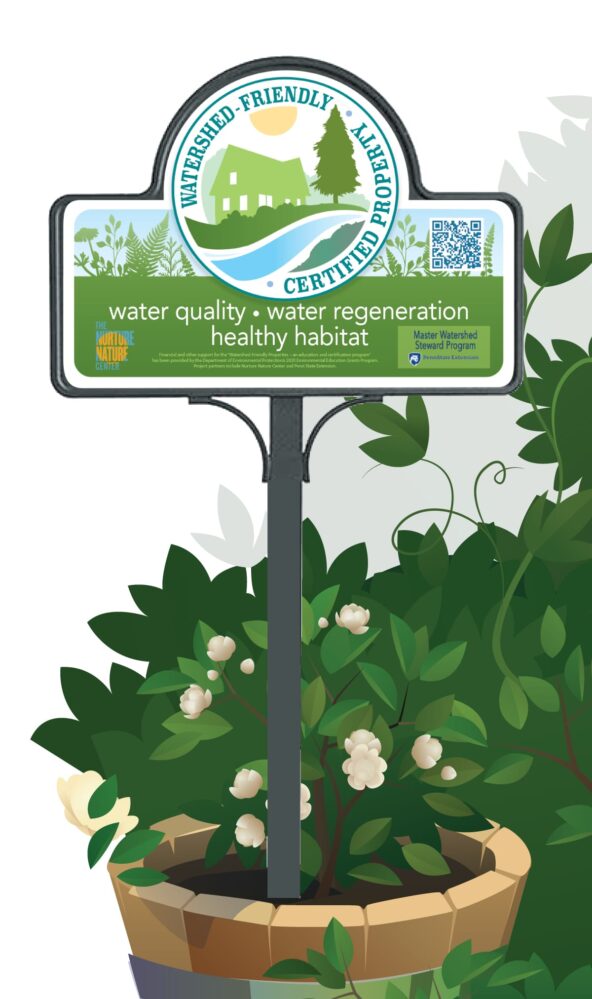 This program allows property owners to fill out a simple online application and qualify for a sign that certifies their property as watershed-friendly. The sign shows your commitment to managing a healthy watershed by reducing stormwater runoff, reducing water pollution, conserving water, and supporting wildlife and pollinators.
About the sign:
Crafted from rust-free solid iron
Measures 25″ L from the top of the plaque to the point which goes into the ground
The plaque measures 10″ H x 14″ W and features rounded edges
Stake is collapsible for easy storage
Comes with screws to attach plaque to stake
Applicants that qualify will be eligible to order a Watershed-Friendly Property sign for a small fee.[su_lightbox_content id="bioswales" text_align="left"]Inline contentVegetated swales, sometimes also called bioswales, are contoured land areas or ditches covered in plants. They are designed to collect stormwater runoff and move it away from areas where it can't soak into the ground, such as a road, parking lot, or rooftop. Some look like straight channels, and others like meandering natural streams. Vegetated swales are typically planted with native plants, but sometimes they are covered in only turfgrass. They are often constructed with specialized soils that can naturally treat stormwater runoff. Sometimes barriers called check dams are constructed across the swale to slow water movement into pools and increase infiltration during larger storm events. Bioswales are aesthetically pleasing and can be installed instead of underground storm sewers or as part of a larger stormwater system.[/su_lightbox_content]
Do you need help or have questions?
Contact a Master Watershed Steward here.